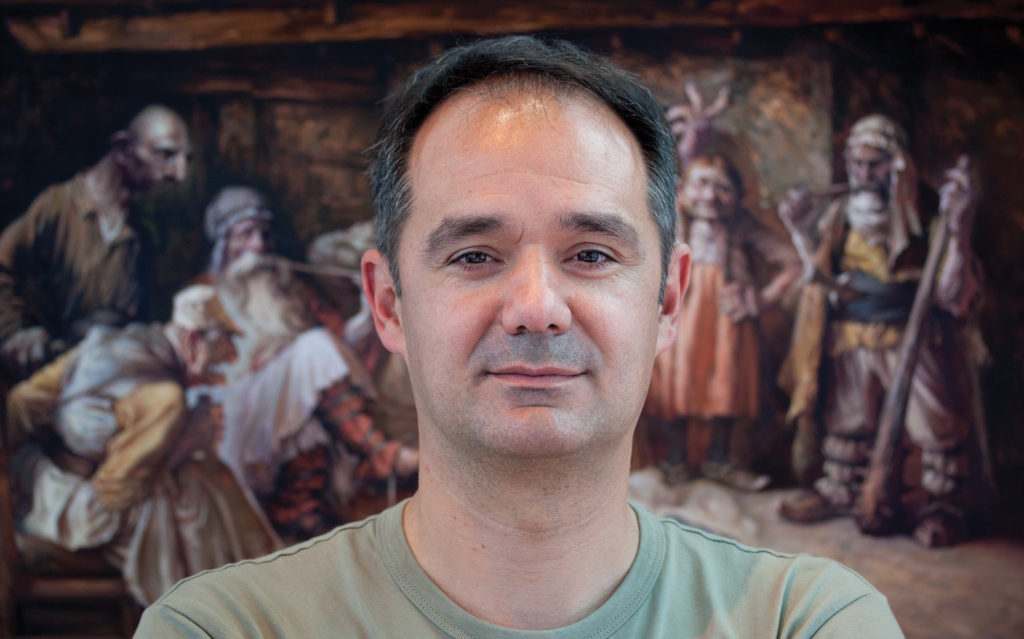 Petar Meseldžija was born in Novi Sad, Serbia, in 1965.
He began his career in 1981 with the comic strip "Krampi" in Stripoteka, one of the best-known comic magazines in his country. This was followed by a series of short comics and work on "Tarzan." He graduated from the Academy of Arts in Novi Sad in the painting department. While still at the Academy, he illustrated his first book Peter Enkorak (Jack One-Step), written by Terry Jones and published by Mladinska knjiga from Slovenia.
In 1991 Petar moved to the Netherlands. Soon after, he stopped doing comics and dedicated himself to illustration and painting. In the '90s he painted posters and greeting cards for companies like Verkerke Reprodukties and Meiklejohn Graphics, and illustrated the book King Arthur and the Knights of the Round Table for Grimm Press, a publisher from Taiwan. In the U.S., Petar created eleven covers for a children's fantasy series at Scholastic Inc. He also collaborated on the books Serbian Folk Tales (Srpske narodne bajke) for Čarobna Knjiga, and Banished Creatures – The Serbian Mythology (Prognana bića – Srpska mitologija) for Orfelin izdavaštvo, both from Serbia.
His solo books include The Legend of Steel Bashaw; a volume on his "Tarzan" comics, and other two comic art collections Esmeralda and other Stories (Esmeralda i druge priče) and Kanoo (Kanu); The Art of Petar Meseldžija; The Book of Giants and Prince Marko and the Dragon ("Marko Kraljević i zmaj").
Among Petar's many awards are the Art Show Judges' Choice Award at the 59th World Science Fiction Convention in 2001; Silver Awards in 1997, 2003 and 2018, and a Gold Award in 2009, from Spectrum–The Best in Contemporary Fantastic Art; and the Golden Pen of Belgrade in 2017.
Petar held his first solo exhibition of paintings in 1998 in the Tjalf Sparnaay Gallery in Amsterdam. He has also participated in many group exhibitions in the Netherlands, U.S. and Serbia.
His original works can be found in private collections in Serbia, U.S., the Netherlands, U.K., Belgium, Germany, France, Canada, Italy, Sweden, Australia and Hong Kong.